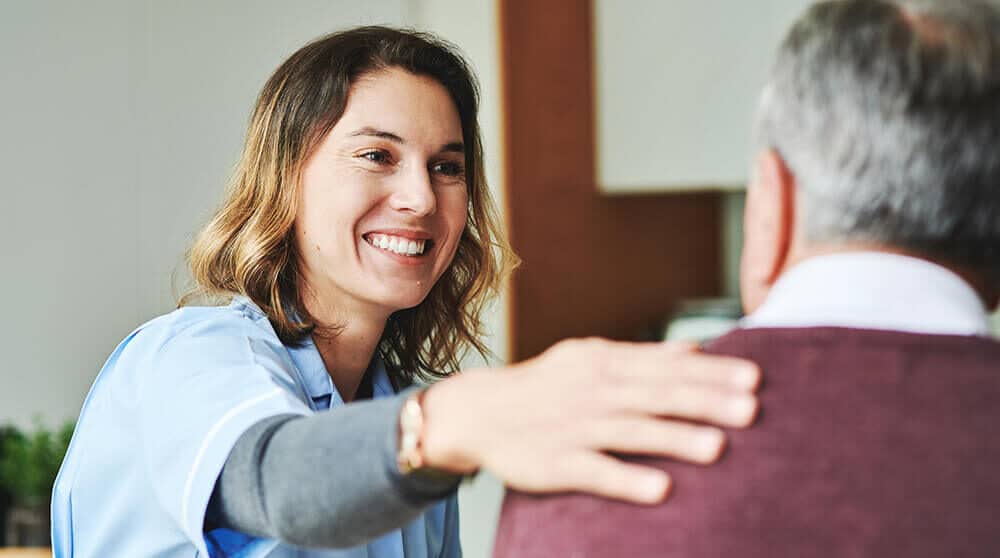 Barriers to Early Referrals: Hospice Care
August 29, 2023 | Senior Living
When doctors first introduce the concept of hospice care to their patients, the initial reaction can evoke emotions of surprise, trepidation, and anxiety. The very words "hospice care" can conjure up fear and misunderstandings. These thoughts are natural and normal to have; however, at CC Young, we want to debunk these myths and help potential candidates to consider hospice care as a comforting and valid option for their loved one's final days.
Hospice care is a personalized, holistic approach that prioritizes the patient. It aims to enhance the quality of life within an environment that regards their needs and wishes with utmost respect. Your loved one will be cared for by a devoted team of experts, whose primary focus is to provide services that can significantly enhance the quality of life, alleviate distressing symptoms and promote a calming atmosphere.
Barriers to Early Hospice Referral
5 Myths about Hospice Care You Probably Never Knew
1. Hospice care is only for people with a few days to live
A common misunderstanding about hospice care is the belief that it's solely for individuals who are in their final few days of life. This is not the case. In fact, hospice care is designed to support patients over extended periods, allowing them to embrace quality of life for as long as possible. On average, the duration of a patient's stay in hospice care is around 90 days, revealing that this supportive care can help patients live longer with better quality days.
2. Patients in hospice care relinquish control of their care
Many people assume that when they enter hospice care, they will give up control of their care. On the contrary, hospice care is meant to support the physical, emotional, spiritual and other needs of the patients and their families, allowing them to guide their own journey. The patient always retains the right to leave hospice care and return to treatment if they ever wish.
3. It is only for patients diagnosed with cancer
Another common assumption is that hospice care is only for people with end-stage cancer. However, hospice care can be used to treat a wide range of terminal illnesses and chronic conditions, such as heart failure, kidney disease, lung problems, Parkinson's disease, and dementia.
4. Hospice care is expensive
Many people can receive hospice care fully paid for by Medicare or Medicaid. It is also typically covered by many private insurance companies.
5. Hospice care doesn't make a difference in a person's life
Though there may be little or no expectation of a cure, hospice care enables patients to live comfortably with as little pain and stress as possible. Tending to patients' needs and providing emotional and spiritual support, hospice care can help improve the person's overall quality of life while maintaining their dignity, many times in their own homes.
Other factors may prevent families and their loved ones from pursuing hospice care, such as not having the resources needed to find a provider that is right for their needs. Understanding what hospice care is, the benefits it can provide, and the resources available in your community can help with addressing any potential barriers to obtaining an early hospice referral for you or a loved one.
Benefits to Consider
It has been shown that hospice care can actually lengthen your loved one's life. According to a study done by the National Library of Medicine, hospice patients tend to live, on average, 29 days longer than patients who are not in hospice care. The reason may be that patients in hospice care can stay in the comfort of a familiar, home-like setting, rather than a medical environment. Also, in hospice care, you and your loved one can have more input into their care.
The benefits of hospice care
At CC Young, we have seen many patients who have used our hospice services and actually improved their prognosis and were eventually discharged to their homes or a senior living community. Here are real stories of two patients who were under our hospice care and became strong enough to return home.
Meet Roseanne
We admitted a patient who was suffering from life-threatening gastrointestinal issues. She was malnourished, weak, and depressed. Her prognosis did not look good. However, one of our skilled nurses worked with her extensively to manage her symptoms, and our dietitian helped her create a nutritional eating plan.
After three months on a consistent schedule of activities that fueled her physical, emotional, and spiritual needs, the patient's health improved. She was eating better and gaining weight. She was eventually well enough to return home. Three years later, she is still thriving.
Meet Harry
This patient was diagnosed with a severe form of congestive heart failure. His prognosis was not good, and he did not qualify for aggressive treatments. Instead, we took a holistic approach to his care. With our team of experienced and certified nurses, aides, social workers, and chaplains, we managed his symptoms and supported his emotional and spiritual needs. As a result, his symptoms became more manageable and he was discharged from hospice. He is still enjoying his life today.
What Makes CC Young Different?
CC Young is a forward-thinking nonprofit, Continuing Care Retirement Community (CCRC) in Dallas, Texas known for its stellar services. CC Young holds a 5-Star overall Quality Rating from the Centers of Medicare Services in skilled nursing care, home health, and hospice. CC Young provides opportunities for Independent Living, Assisted Living, Memory Support, Long-Term Care, Respite Care, Short-Term Rehabilitation, Aquatics and Outpatient Therapy, and Hospice General Inpatient services. The Community Services Program offers Home Healthcare, Hospice and Palliative Care, and Private Duty Care on- and off-campus.
Enhance Your Quality of Life at CC Young, a Premier Continuing Care Retirement Community (CCRC) in Dallas, Texas
For patients who have exhausted all of their treatment options, hospice is a compassionate form of care. This type of care enables them to live the remainder of their days as comfortably as possible while getting their physical, emotional, and spiritual needs met, for both the patient and their family. Because of the comprehensive holistic care offered at CC Young, some of our patients have even graduated from hospice care, becoming strong enough to go back home to their friends and family.
If you think you or someone you love can benefit from hospice care, learn more by visiting our website. You can also contact us here. We look forward to speaking with you soon!
Go Back